Shin Tsukimi
I'll warn you. SPOILERS .
This article contains spoilers for Chapter 3, Part One, Section B.
Shin Tsukimi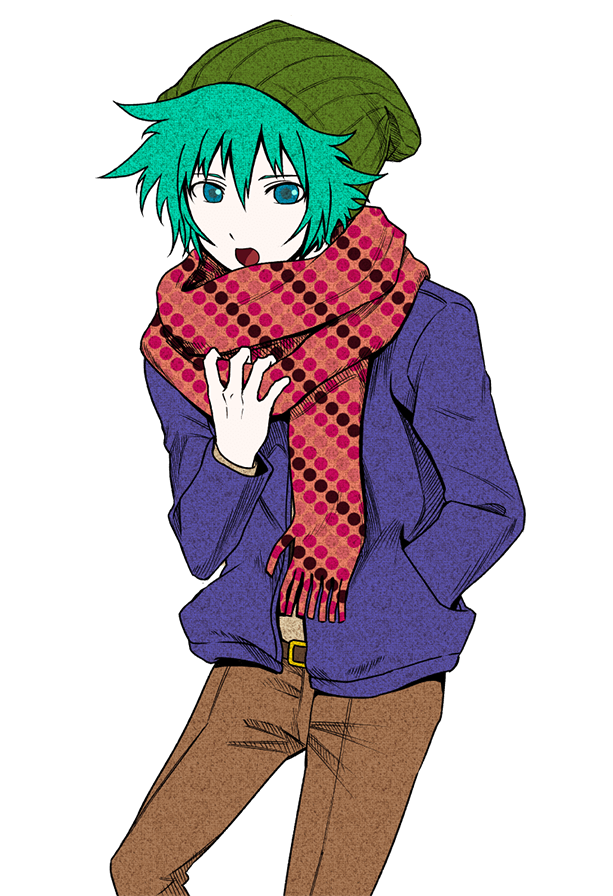 Identification
Aliases
Beanie man ( ニット帽の男 , Nitto-bō no otoko? ) [1]
The Loner ( 陰キャ , Inkya? , lit. «negative personality, asocial type»)
Sou Hiyori ( 日和 ( ヒヨリ ) 颯 ( ソウ ) , Hiyori Sou? )
Occupation
Biographical Information
Date of birth
Relatives
Physical Description
Species
Gender
Height
Weight
Hair color
Eye color
Personal Status
Status
Survival rate
Date of death
Cause of death
Shin Tsukimi ( 月見 ( ツキミ ) 真 ( シン ) , Tsukimi Shin ? ), better known as Sou Hiyori, is one of the 20 chosen to participate in the Death Game. He is a self-proclaimed job-hopper.
Contents
Appearance
Shin is a young male described as frail. He stands with poor posture. He has fluffy, light teal hair with slightly darker teal eyes.
Shin's outfit consists of a green beanie, a pale brown long-sleeved shirt tucked into khaki pants, and a purple jacket. His pants are held up with a brown belt with a gold buckle. Shin also wears a pink-orange polka-dotted scarf with tassels. The polka-dots are colored in a stripped, reflected pattern of peach, pink, and dark brown. He has also been shown to wear light brown fuzzy boots.
Being a participant of the Death Game, he wears a collar device.
Personality
At first introduction, Shin is generally friendly but a bit standoffish and introduces himself as Sou Hiyori. He's secretive due to being distrustful of the other participants. Despite this, he helps everyone discover secrets about where they're trapped.
Shin is canny and intelligent, but due to his suspicious nature, he has a habit of jumping to negative conclusions, especially in regards to Sara. He cannot comprehend Sara's charisma and is both resentful and envious of how she manages to gain the others' trust.
Survival is his main priority, and with knowledge of his survival rates that were provided by the organization, his previous personality (he presumably used to be a truthful person as suggested by his name) snaps and warps to what he believes would better serve his continued existence. This also means lying to achieve whatever ends, and skillfully at that.
He is a skilled computer hacker and appears to care for Kanna Kizuchi, during the attractions Sub-Game and onward. To watch over Shin, Kanna takes up the habit of sleeping in the same room as him and they appear to grow close during this time. Regardless, Shin has no problem tricking and manipulating her or the others to ensure his life is safe and his plans are realized.
However, despite begging Sara for help during the second Main Game, he is devastated if Kanna is chosen to die instead of him, and enacts what he believes is justified retribution on Sara, psychologically tormenting her with a twisted version of the Joe AI.
If he is chosen instead, Shin demonstrates empathy and compassion within his dying moments; accessing the Joe AI for Sara to find and reach some closure.
When his plans or calculations fall through, Shin tends to break his friendly façade. He generally keeps a calm, callous tone when speaking, but has shared glimpses of what he might've been like outside the Death Game. When he was excited about potentially escaping the facility he let his guard down slightly, even to Sara, who has the option to give him a high-five and have him unthinkingly reciprocate.
Before the Death Game, Shin's AI indicates he was a lot more timid than the Shin we meet during the death game. [5]
History
Background
Growing up, Shin's parents spoiled him. As an adult, he felt a certain level of exasperation over it even as he felt he should express more gratitude toward them. He became a freelancer [6] even as he claims to be a job-hopper in order to have a semblance of independence. [7] Supposedly, he was working at a convenience store up until he got kidnapped.
Shin met Sou Hiyori in high school, and their relationship seemed to have been toxic in nature. When asked about Sou, Shin's AI refers to Sou as his «scary friend» and that Sou enjoyed seeing him scared and restless. [5]
The Death Game
" He's. a scary friend of mine. "
— Shin AI's response to «About Midori» [src]
Their relationship is inferred to have been very dysfunctional. Shin was afraid of Sou and Sou was aware of that fear, but he enjoyed watching Shin get sweaty and anxious. Despite that, Shin referred to Sou as his friend until the latter's supposed death. After the latter's initial disappearance, out of loneliness of loosing a close friend, Shin took Sou's scarf as a reminder of someone he had looked up to. The scarf became a comfort item for him. However, Shin notes that although he missed Sou, he was also relieved. It causes Shin to harbor confused and conflicted feelings regarding his former friend.
Midori is also shown to be coldly possessive of Shin. When he first met the participants in the doll cemetery (and Shin is dead) he says how unfortunate it was that he didn't get to kill Shin himself if the latter was going to die anyway. When he's called out about his attitude, Midori, annoyed, claims they just don't understand his affection for Shin. Later, when he catches the Shin AI talking to the participants, Midori sharply orders the AI to stop being friendly with them— to which the AI responds with an apology and flustered adherence. Also to note: Despite the AI's being self-aware and emotionally intelligent, Midori says about the Shin AI, «That's mine.»
When asked about their relationship, Shin trails off after saying they were often together when he was alive. However, it was irrelevant now, because Midori is an enemy, and regardless of Shin's presence he wasn't going to go easy on them. In fact, Midori was likely to be even more fired up because Shin was with them as he enjoys seeing Shin's reactions.
Sara Chidouin
In his First Trial, he was told about the Death Game and was given papers about the candidates' survival rates. When he saw Sara's percentage of survival and compared it to his, he became wary of her. This suspicion continues to manifest throughout the game, and is only supported by the e-mails on Kai's Laptop suggesting that she has a connection to the kidnappers.
Despite his distrust of Sara, he remains on mostly friendly terms with her until the first Main Game, in which Shin continually lies to get his way, leading Sara to equally doubt him. This Main Game is also the first point in which Shin voices his doubts about Sara, through telling others about the e-mails and questioning why everyone is so quick to trust her.
The rift between the two only grows, with Shin continuing to manipulate others, and the cast continuing to doubtlessly believe in Sara. Sara finds out the truth about how Shin manipulated Kanna in the first chapter, leading to increased hatred from everyone else, including Sara. Shin still greatly doubts Sara and everyone's trust in her, even believing her to have written the hateful message towards Kanna. Within his nightmare, Shin's perception of Sara is revealed to be that of a ruthless killer, directly contrasting how Sara truly is.
Although their suspicion of each other only grows during Chapter 2, they are capable of working together for the greater good, as seen in Chapter 2 Part 2 in which Sara assists Shin in taking down the facility's security system, and when Shin vows to tell Sara every piece of information he knows in order to win an extension for the second Main Game.
Depending on the player's choices in the second Main Game, Sara and Shin's relationship can take two very different directions. If Shin is chosen to die, he shows kindness to Sara, allowing her to reconcile with Joe's AI, and expressing that he should have shown trust in the others. If Kanna is chosen to die, Shin is incredibly hostile towards Sara, vowing to kill her, as well turning Joe's AI so malicious that Sara forgets about Joe completely.
During the Murderer Game, (if he's alive) Shin states that he hates Sara and Midori equally. But, defeating Midori is a priority and he chooses to cooperate with her until he's dealt with; referring to Sara as the «main course.» [8]
Источник